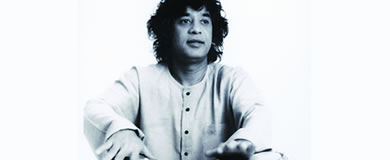 Featuring Pandit Zakir Hussain & Pandit Hariprasad Chaurasia
Sunday 22 July 2007, 7:45 P.M. @ Queen Elizabeth Hall
Pandit Zakir Hussain is the son of Ustad Alla Rakha, world-renowned master of the tabla, and one of India's leading living classical musicians. Alongside Pandit Ravi Shankar, Ustad Alla Rakha brought Indian classical music to Western audiences in the 1950s and 1960s.
Ustad Alla Rakha was one of the first musicians from India to play the Royal Festival Hall, and he also played the Monterey Pop Festival and Woodstock, influencing artists such as The Rolling Stones and The Grateful Dead. His son, Zakir Hussain, has gone on to perform with George Harrison and Van Morrison.
In this programme, Zakir Hussain pays homage to his father's musical legacy, together with other soloists and ensembles including Pandit Hariprasad Chaurasia, master of the bamboo flute, or bansuri. 'Alla Rakha is the Einstein, the Picasso; he is the highest form of rhythmic development on this planet' (The Greatful Dead's Mickey Hart).